NEWS
We wanted to keep you in the loop
Throughout our over 45 years of service to the glass container industry we here at Quantum Engineered Products Inc. have always taken pride in our commitment to on time delivery and customer satisfaction.
We aren't immune to the recent worldwide circumstances affecting the availability of raw materials, and have begun along with many others to feel the pinch of increased lead times, increased costs, and delays from our partners and suppliers.
Quantum remains committed to our quoted lead times. We are working hard to stay ahead of the curve and keep customer satisfaction our number one priority. As part of that we wanted to let our customers know that in these extraordinary times of worldwide raw material and labor shortages that it is possible Quantum's ability to avoid delays to customers could be hindered by circumstances beyond our control.
We truly appreciate your patience and understanding. Please feel free to reach out to Quantum with any questions or concerns.
Steven Kozora
Managing Director
www.QuantumForming.com
Tel: 1(724) 352-5100
Saxonburg PA – June 29, 2021 – The Quantum Engineered Products Inc. production support team has installed equipment for a 12 Section machine at GCA glass container factories located in Kutahya, Turkey. The equipment includes Plunger Mechanisms, Process Equipment, and also a TFA™ Process Controller.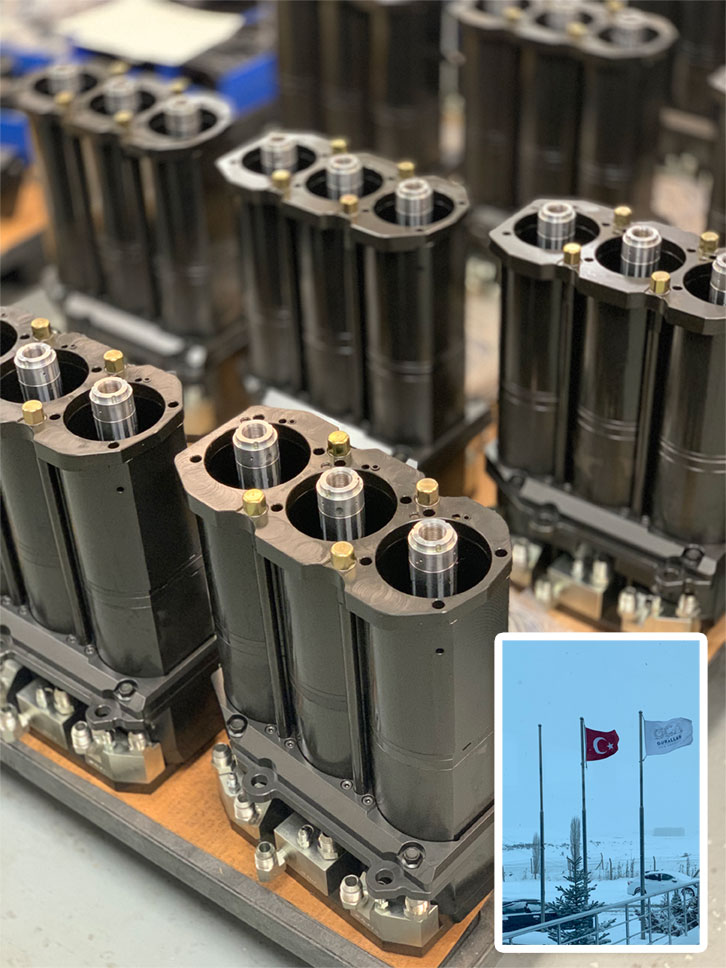 Quantum's Tube-Within-a-Tube (TWT®) was installed on all 36 cavities connected to Quantum's TFA™ (Total Forming Analysis) process controller. Quantum is proud to successfully commission our first machine at GGA after trials and COVID19 challenges.
GCA, operating within the body of Gürok Group which has brought its
expertise in glass production to consumers and business partners for 25 years in Turkey, is an organization that always prioritizes sustainability, respect for the environment and people in all production stages within the frame workof quality and safety standards. They prioritize quality in glass packaging production by making investments to reach the quality behind its name. At the GCA production facilities located in Kütahya, Turkey, every stage from production processes to quality control and packaging processes is carried out with the latest technology and full automation systems. With the second furnace investment, which started operating in 2021, GCA nearly doubled its capacity and currently has export operations to more than 40 countries globally.
Quantum Engineered Products has been committed since its creation in 1976 to helping glassmakers keep glass as the best packaging choice. Quantum specializes in blank side forming equipment such as quality Plunger Mechanisms for any IS Machine; Process Equipment for BB, PB, and NNPB; Process Controller (TFA™) with full stroke real time sensor to manage gob weight.
#
Quantum Engineered Products Inc.
438 Saxonburg Blvd
Saxonburg PA 16056
Contact:
Rogerio Galante
Director of Sales and Marketing
rogeriog@quantumforming.com
www.QuantumForming.com
Tel: 1(724) 352-5100 x.224
Cel: 1(412) 537-6869
The above animation shows a gob configuration change
from 6 1/4″ double gob to 4 1/4″ triple gob.
The Quantum Forming System Advantage:
• Fast Gob configuration;
• No need for realignment;
• Uses same cylinder, same base plate, and same hoses;
• Lower maintenance and inventory cost;
• TWT® and seal technology for long lasting life of your investment.
With Quantum, your operators enjoy the flexibility of optional manual installation/removal of plunger mechanisms. Other Systems require machine assistance.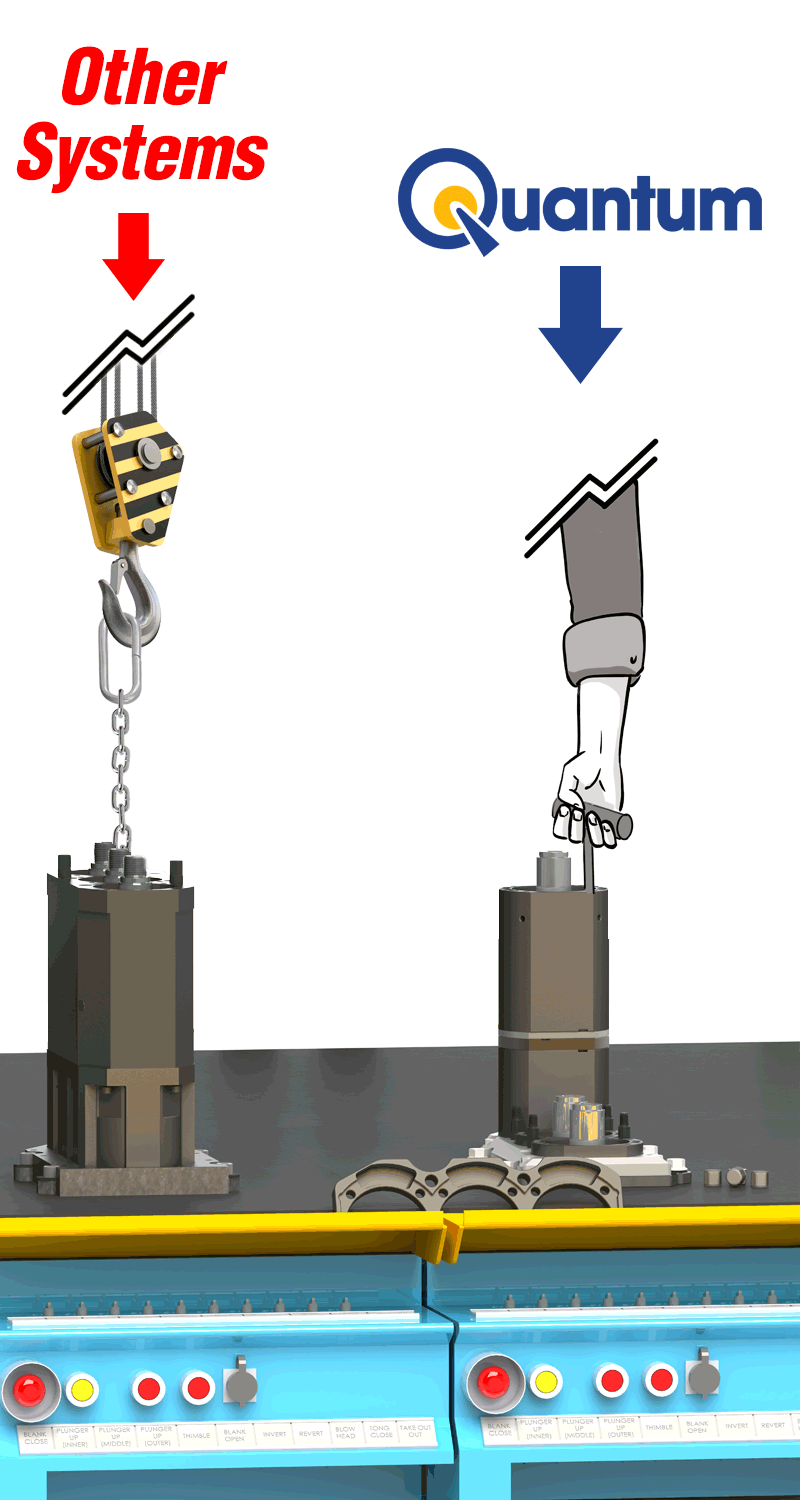 Contact Quantum today to learn more about the many benefits Quantum's flexible forming systems can provide.
Follow the links below to download a printable 2019 Calendar to help you stay organized in 2019.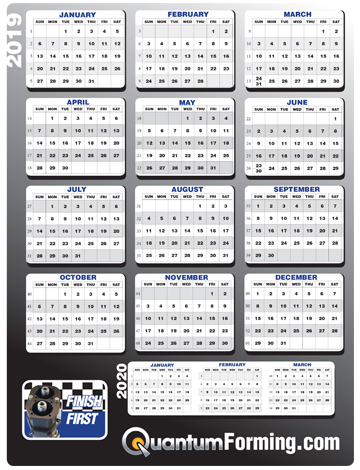 USA Calendar with Week Numbers | European Calendar with Week Numbers
Mark your new calendar!

Visit Quantum at Glasspex India
October 10-12
Bombay Convention & Exhibition Center in Mumbai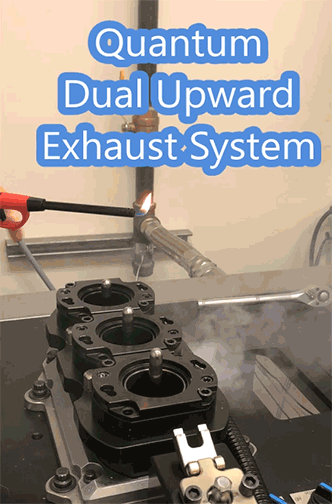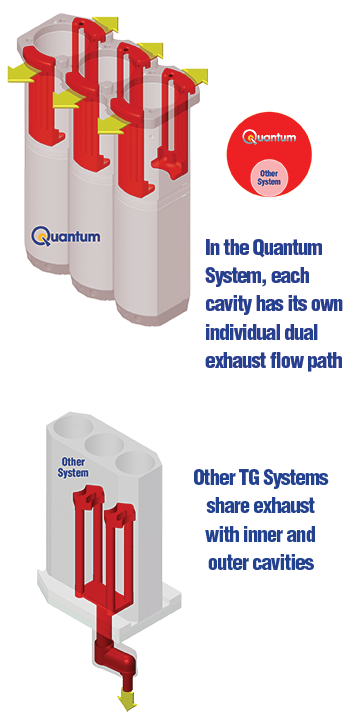 Quantum Cylinder Exhaust Design
The upward flow of Quantum's Dual Upward Exhaust System uses a direct exhaust path in order to eliminate the overheating of the lower cylinder which extends the life and performance of the Quantum Cylinder.