NEWS
Get superior plunger cooling using lower air pressure than conventional forming systems that use the high pressure on/off cooling systems.
The Quantum Cylinder and Process equipment work together to allow the Forming Plunger to be cooled throughout the entire forming cycle.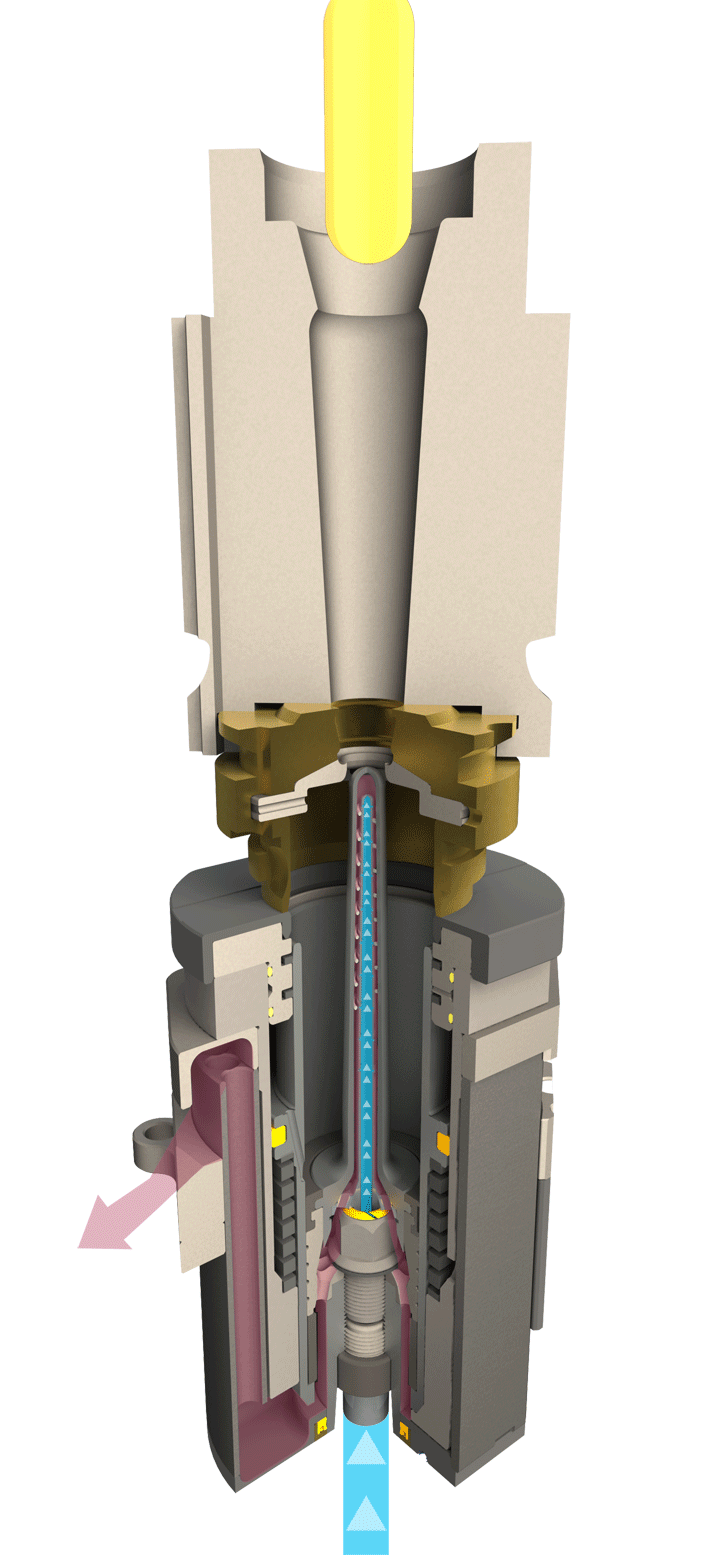 Advantages of Quantum's Multistage Cooling
No thermal shock to the Plunger or overlay material
Minimal dimensional growth of the Forming Plunger
Closer fit to Guide Ring
Lower pressures required due to Continuous (360°) cooling of the Plunger
Having cooling on during Press Time reduces Plunger Up Pressing Pressure
Lower temperatures result in higher speed potentials and reduced sticking
The Plunger, Internal Cooler and Guide Ring will have a longer production life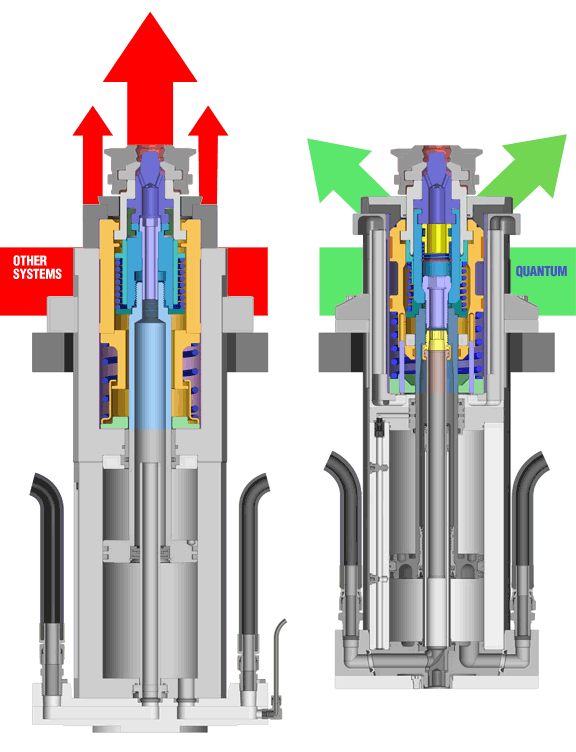 Accuracy By Design
The Quantum designed lightweight and tapered BB cartridge self aligns and reduces impact on the cartridge bolts. Having a tapered impact area sends the force of impact outward at a 45 degree angle, away from the critical areas around the plunger and neck ring.
This benefits the process by: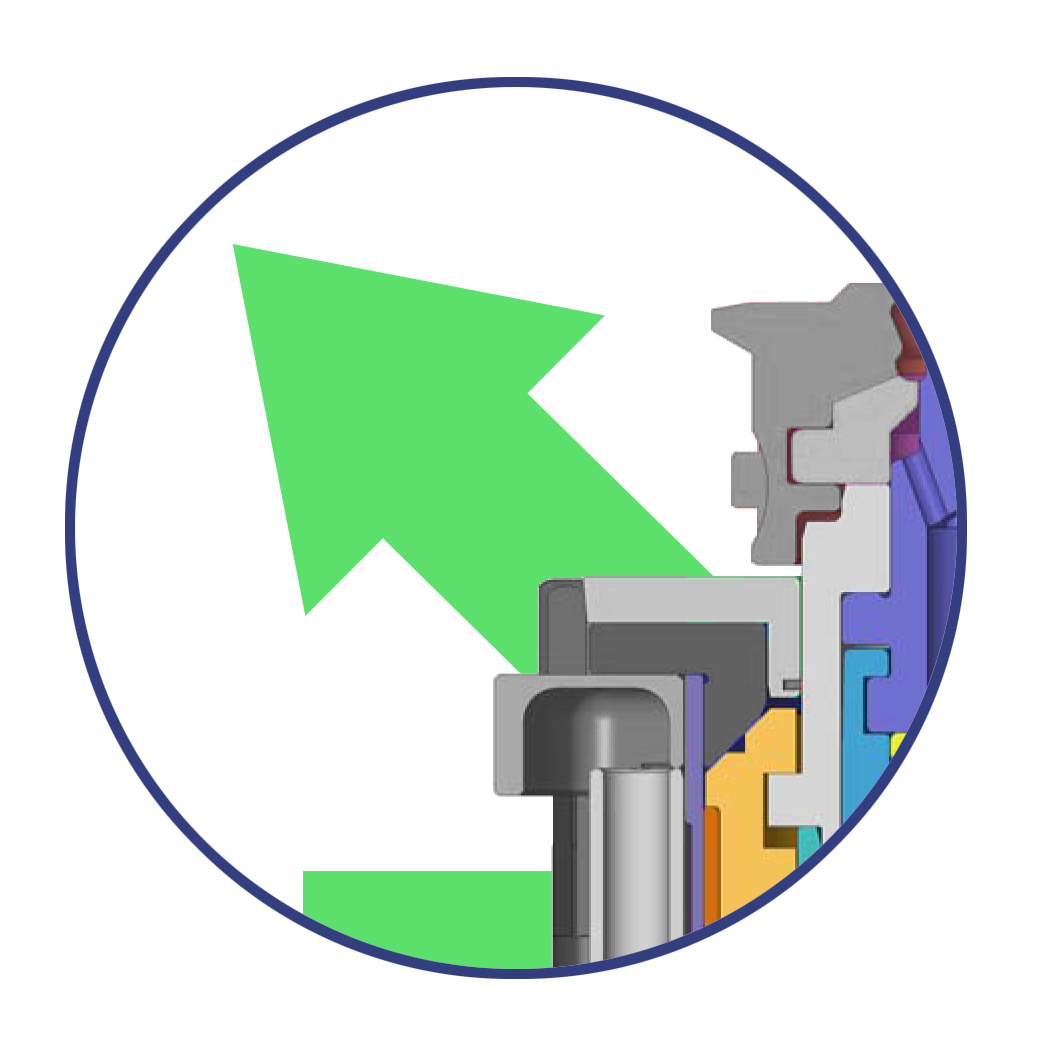 Reducing Cartridge Bolt Breakage
Reducing Cartridge Cap Breakage
Precise Alignment during BB Process
Reducing Container Defects
Eliminates premature wear of BB components
Increases life of Mould Equipment
Quantum's BB cartridge is designed to impact the same point every cycle.
Quantum's TWT® design eliminates the air leaks that can cause gob bounce and parison contamination present in other systems.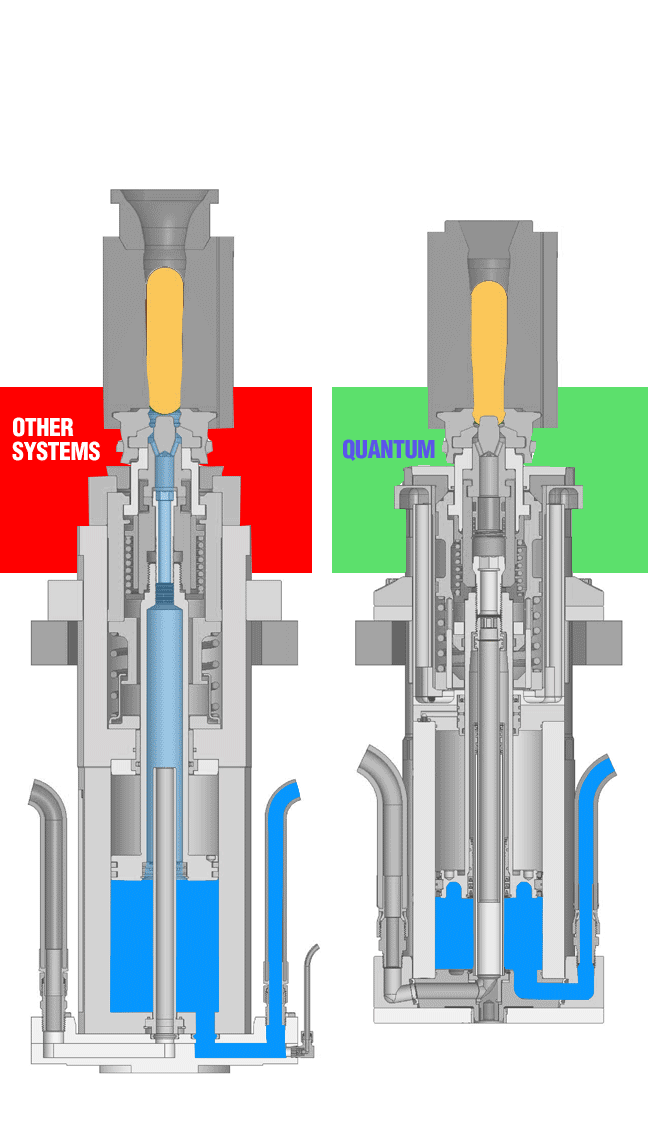 Air leakage that occurs in other systems causes serious gob loading problems that can range from excessive settle blow pressures to having the pathway for counterblow filled with dirt, glass and debris. This contamination can then be blown into the parison, compromising the strength and appearance of each container.
The deeper loading allowed by the improved Quantum TWT® System enables:
Reduced settleblow time and pressure
Less settlewave
Higher speeds
Improved finish qualities
Better distribution
Quantum's TWT® Forming System is designed to eliminate air leakage into the parison during gob loading and forming. No air leaks means no dirt and debris compromising your containers.
Using miniature cylinders can save up to 60% of your processing air without compromising production.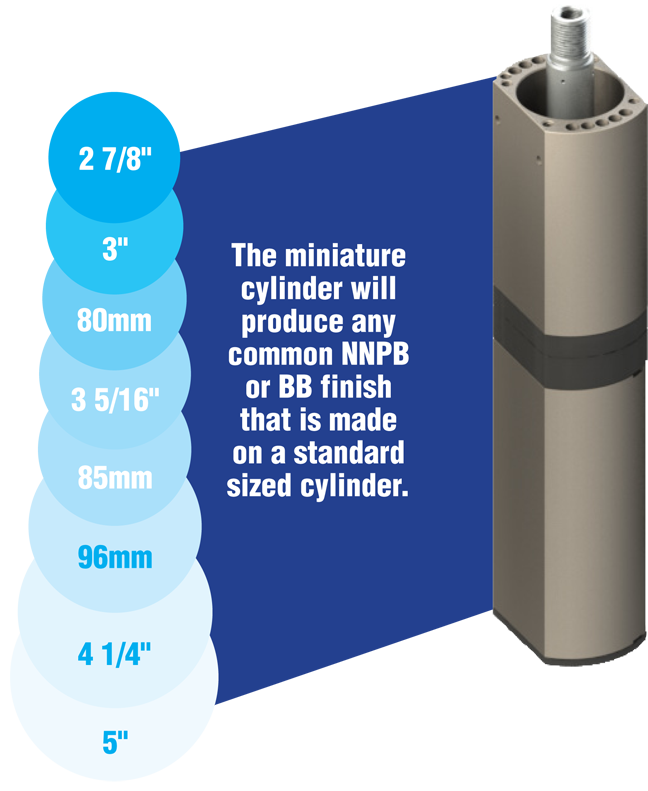 Better control of the forming with less force increases the strength of each container made.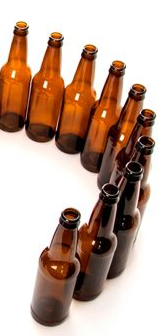 The smaller piston area of Quantum's miniature Cylinder provides rapid pressing and reduced volumes of compressed air for both up and down functions. The cooling tube passageway is identical to the thousands of full size TWT® Cylinders in use worldwide.
Get all the same benefits of Quantum's full size dirt and turbulence free TWT® cylinder in a smaller, stronger, energy efficient package.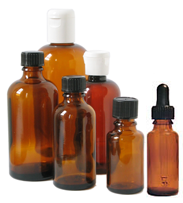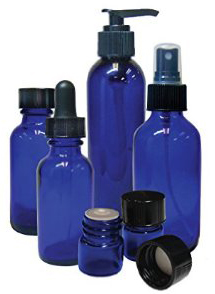 What if there was a faster way to change loading spacers..?
Cut IS Machine Downtime
Job changes often require a load position and loading spacer change. Traditionally a job change like this could cost you up to 15 minutes per section.  Not to mention all the extra excessive and repeated torque your piston rods, adapters and locking studs are subjected to. Dramatically reduce the time your operator needs to spend inside the section doing a job change by using Quantum's NNPB Quick Change Positioner.
Here's How It Works:
The specially designed spacer is placed over the adapter and is able to be removed by hand when the positioner is in the full up position
The locking stud and adapter do not need to be removed to change loading spacers.
Each spacer can be manufactured or cut to the desired length.
Loading positions can be changed quickly and easily.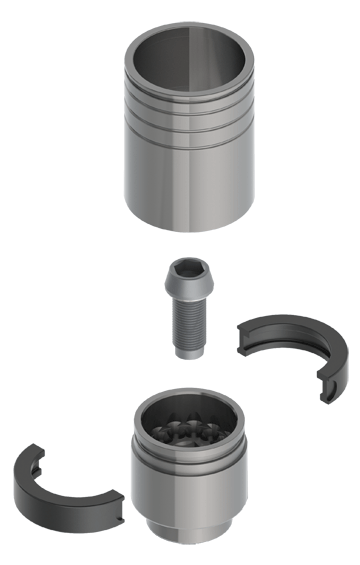 Quantum's NNPB Quick Change Positioner:
Cut IS Machine Downtime
Increase Production Flexiblity
Decrease Stress On Forming Equipment
Cut Spare Parts Costs
Reduce IS Operator Safety Risks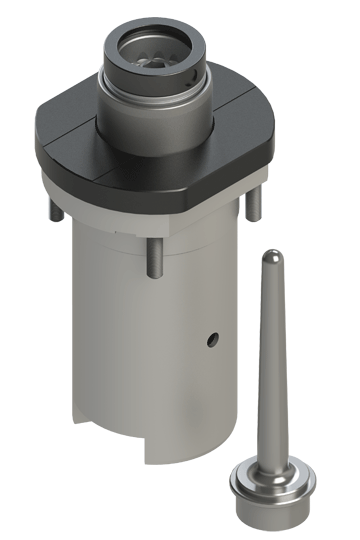 Did you know..?
Most production losses occur during initial forming on the Blank Side. One of the major contributing factors is Air Leakage. Forming parisons can be complicated, especially when facing unknown factors, such as leaks. Mechanical issues can usually be identified and corrected relatively easily. However, air leakage is normally unseen and overlooked.
Quantum takes this problem very seriously. Every aspect of design and detail are based around this basic principal. Leakage or merging of operating air reduces efficiencies, increases losses, drives compressed air costs up, and creates unnecessary down time.
Only Quantum can offer:
Dirt free air delivery
Zero air leaks
Maximum plunger cooling / counter blow efficiency
Elimination of glass particles and contaminants in the parison
Some common issues associated with leaks in non-Quantum equipment: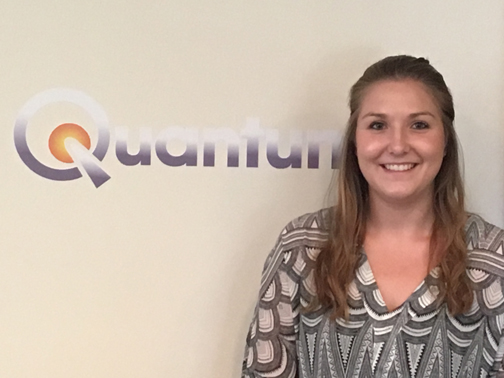 Quantum would like to welcome our newest employee Tiffany Stewart.  She will be  managing Quantum's front office duties and supporting our Financial and Logistics Departments. Tiffany has an Associates degree in Business Management and plans to pursue her Bachelor's degree in Business Administration.  She enjoys outdoor activities, riding her horse on local trails, and freelance photography.
Quantum is excited to have Tiffany join our team!