You can only use glass for that!
In Western Pennsylvania it's harvest time. This year the warm rained filled summer has been kind to the many fields of corn, soybeans, and vegetable gardens that make up our rural landscape. Few things compliment a meal better than vine ripened produce and it even tastes better if it came from a home garden.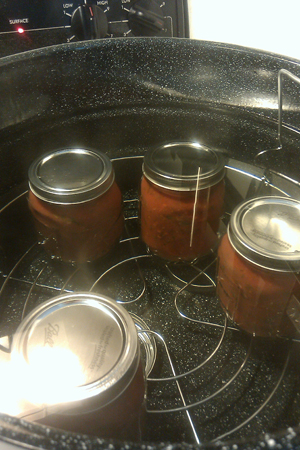 Our growing season is short compared to many parts of the world; so gardeners and farmers have turned to canning. Canning is an economical method that preserves fruits vegetables to enjoy throughout the year, and the nutrient value is often as good as, or better than fresh produce.
Lately, there has been more emphasis on the environmental and health benefits of consuming more locally grown foods and canning is a great way to do this year round.
The process is simple, but it must be done carefully to make sure the food does not become spoiled or contaminated. The method involves using a glass canning jar, a sealing lid and a screw band. The food is placed in the jar, covered with a liquid, and then heated in boiling water to reach a safe temperature of 240 degrees Fahrenheit. Simply put, this process removes the air from the jar and creates a vacuum which seals and preserves the food.
Some popular canned goods are; tomatoes, spaghetti sauce, green beans, salsas, peppers, pickles, and many types of jams. Everything is preservative free and ready to enjoy long after the growing season has ended.
Don't try this with any other packaging material because you can only use glass for that!
Learn About Canning:
National Center For Home Food Preservation